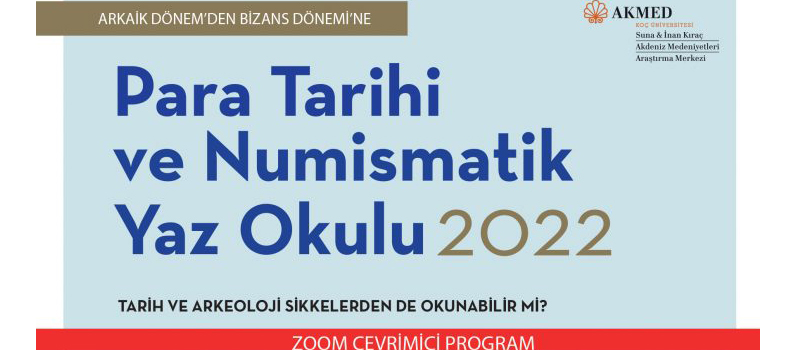 Koç Üniversitesi (Antalya, Turquie)
En distanciel (zoom)
Du 27 juin et le 1er juillet 2022
Source : lien vers l'annonce
MONETARY HISTORY AND NUMISMATICS SUMMER SCHOOL 2022 
Zoom Online Program
As Koç University AKMED, we are pleased to announce the 6th Monetary History and Numismatics Summer School which will be held on Zoom online between June 27 – July 1 2022. It is an intensive one-week summer school offering a broad chronological survey of monetary history and numismatics from Ancient to Byzantine period (c. 650 BC-AD 1453). Lectures will be given by Professor Dr. Oğuz Tekin from Koç University AKMED and Dr. Peter van Alfen from the American Numismatic Society at Zoom online. The program, designed for newcomers to numismatics, is an introduction to Ancient Greek, Roman and Byzantine numismatics. It aims to provide the participants with basic numismatic knowledge and to show how numismatics can be used as a tool in their studies in the fields of archaeology, history and art history. Those who complete the program are entitled to receive a Certificate of Participation.
Program Language :

English
Instructors :
Prof. Dr. Oğuz Tekin, Koç University AKMED and Dr. Peter van Alfen, American Numismatic Society
Enrollment Requirements and Important Points 
The program is open to all undergraduate and graduate students and faculty in universities in Turkey and abroad. The quota is 20 students.
For an interactive lesson environment, participants are expected to turn on their cameras and microphones during the questions & answers and discussion parts.
Since the language of the program is English, it is necessary to know English at the level of understanding.
The acceptance of the candidates to the program will be finalized upon their participation fee and will be notified by e-mail. Candidates who are eligible to participate in the program will be announced on June 17, 2022 on the page you can access from this link.
Students are expected to attend all classes. The applications of those who have attended on of the previous AKMED Numismatic Summer School programs will not be accepted.
Program Fee
The participation fee for the program is ₺150. After accepted into the program, this amount should be deposited into the account of Koç University Anatolian Scholarships via the link sent.
Application
Please complete the online application form and also send the additional required documents by scanning to ayaci@ku.edu.tr on the day of submission.
Required Documents:
Application form (click for online submission)
Resume (including education info and photo)
Official transcript
Reference Letter
Application Deadline
3 June 2022
Contact
Please contact ayaci@ku.edu.tr (Arif Yacı) for any questions about the content of the program and oyanardag@ku.edu.tr (Özge Yanardağ Koçyiğit) for any administrative questions.