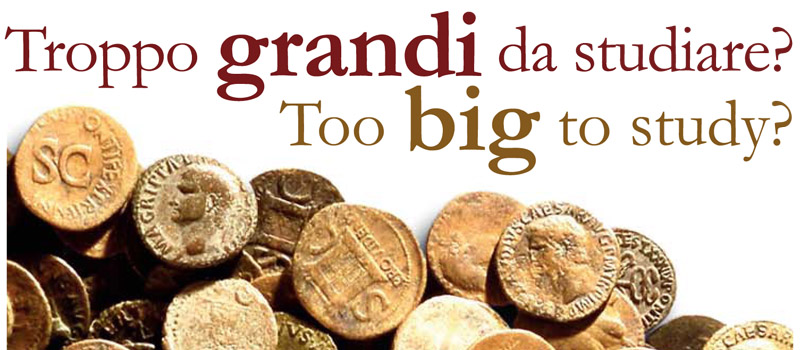 Quand ? 17-19 mai 2018
Où ? Trieste, Département des Sciences Humaines – Université de Trieste, Via Lazzaretto Vecchio 8, aula 6 – 3e étage
Jeudi 17 mai
15.30-16.00
Academic Authorities
Lucio Cristante (Dean of Department of Humanistic Studies)
Michele Pipan (Delegate of Research of the University Trieste)
Luca Caburlotto (Polo Museale Friuli Venezia Giulia)
16.00-16.30
Chiara Cecalupo & Axel Alt (ISMA-CNR, Roma & Museo Histórico Nacional,
Buenos Aires Argentina)
Le monete antiche del magazzino del Museo Histórico Nacional di Parque Lazama, Buenos Aires Argentina
16.30-17.00
Andrea Stella (Post Doc Researcher, Università di Trieste)
Too Big to Study? The numismatic collection in the National Museum of Aquileia
17.00 -17.30
Michele Asolati (Università di Padova)
Tracce della tesaurizzazione monetaria d'età antica nell'esposizione archeologica al Castello Rosso di Tripoli (Libia)
Coffee break
18.00-18.30
Klaus Vondrovec (Münzkabinett, Kunsthistorisches Museum, Wien)
Cleaning up 500 years of collecting (The coin cabinet of the Kunsthistorisches Museum in Vienna)
18.30-19.00
Ermanno Arslan (Accademia dei Lincei, Roma)
Subject to be defined
20.30 Dîner : da Pino – riva Ottaviano Augusto, 2B – Trieste
Vendredi 18 mai
9.00-9.30
Neil Maher & Georgia Kelly &Le Quelenec Victoria (Jersey Museum, Jersey Heritage, Great Britain)
Le Catillon II: conserving the world's largest Iron Age hoard
9.30-10.00
Gaëlle Thévenin (Laboratoire Orient et Méditerranée – UMR 8167)
A lost Alexander Hoard from Gaza Strip/Palestine
10.00-10.30
Sam Moorhead (The British Museum, London)
The Frome hoard – how massive hoard changes everything
Coffee break
11.00-11.30
Marie-Laure Le Brazidec (Chercheur-numismate associé à l'UMR 5140 du
CNRS, Montpellier)
Le trésor de la Porte Chaillouet à Troyes (France), plus important dépôt d'imitations de Tétricus I et II: de la fouille à l'étude préliminaire
11.30-12.00
Vincent Drost (Independent researcher)
The Saint-Germain-lès-Arpajon hoard and other "big" radiate hoards from France
12.00-12.30
Francis Dieulafait (HADÈS – Bureau d'investigations archéologiques,
Toulouse)
Le trésor de nummi découvert à Juillac (L'Isle-Jourdain, Gers -France) – Une méthodologie d'inventaire
Lunch libre
15.00-15.30
Navarro Anna & Francisca Chaves Tristán (Museo Archeologico-Università di Sevilla & Universidad Sevilla, Facultad de Geografia e Historia. Dpt. de Arqueologia)
Proyecto y realidad en el tesoro de "El Zaudín" (Tomares, Sevilla). I: Protección y Conservación. II: Estudio
15.30-16.00
Salvatore Garraffo (CNR, Catania)
Il tesoro di Misurata (Libia): un banco di prova per lo studio e la pubblicazione dei rinvenimenti di grandi dimensioni
16.00-16.30
Pierre-Marie Guihard & Guillaume Blanchet (Centre Michel de Boüard-CRAHAM UMR 6273, Université de Caen Normandie, France)
«Pour une approche globale?» Le dépôt de 14528 nummi du IVème siècle de Saint-Germain-de-Varreville (Normandie, France)
16.30-17.00
Antony Hostein (EPHE – Ecole Pratique des Hautes Etudes –
Université PSL Paris)
Les "gros" dépôts monétaires en contexte. L'exemple de la Gaule du Centre-Est (Ier-Ve s. ap. J.-C.)
Coffee break
17.30-18.00
Bruno Callegher & Manuela Montagnari & Andrea Favretto (Dipartimento di Studi Umanistici – Università di Trieste)
Čentur (Maresego) Hoard. Thousands of folles of Tetrarchy around the World: for a potential reconstitution
18.00-18.30
Zakia Loum (Bardo Museum and Faculty of Humanities, University of Tunis)
Le trésor de Al-Djem
18.30-19.00
Cristian Gazdac (Ashmolean Museum – University of Oxford)
Small hoard, large hoard? The categories of hoards by size on the Middle and Lower Danube in the light of the "Coin Hoards of the Roman Empire" Project
20.30 Dîner : Ristorante Ai Fiori, piazza Attilio Hortis, 7 – Trieste
Samedi 19 mai
9.00-9.30
Luca Gianazza (Engineer, Independent Researcher)
Applying Statistics and Computer Science to the study of big coin finds: an engineering approach
9.30-10.00
Aleksander Bursche & Kyrylo Myzgin (University of Warsaw, Institute of Archaeology)
Big Hoards of Roman coins from Barbaricum and data-bases
10.00-10.30
Alessandro Cattaneo (Università di Padova)
From reality to virtuality. A Database for the Cyrenaican specimens from numismatic trade
Coffee break
11.00-11.30
Pierluigi Debernardi (Indipendent Researcher)
Studio dei coni di grandi emissioni: applicazione ai vittoriati
11.30-12.00
Marguerite Spoerri Butcher (Ashmolean Museum, University of Oxford)
Reka Devnia (Bulgaria): the challenges of creating a digital dataset of 80,000 coins published in 1934. And: how representative is this hoard?
12.00-12.30
Robert Kool (Israel Antiquity Authority, Jerusalem)
Too Large to Handle? The Forgotten early Ottoman-period shipwreck hoard of Megadiem on the Carmel Coast.
Lunch libre
15.00-15.30
Dorota Malarczyk (Numismatic Cabinet, National Museum in
Krakow, Poland)
Islamic coins in the early medieval hack-silver hoard Dzierżnica II from Greater Poland
15.30-16.00
Alberto Canto Garcia (Dpt. Prehistoria y Arqueologia – Campus
Cantoblanco, Madrid)
Hallazgos de moneda islámica en al-Andalus: los casos de Haza del Carmen, Cruz Conde y Jaén (Córdoba, España)
16.00-16.30
Andrea Saccocci (Università di Udine)
Il ripostiglio 'Aiello' di c. 5400 'intrattabili' denari veronesi (secc. XII-XIII)
16.30-17.00
Jean-Marc Doyen (Laboratoire de recherche Halma – Histoire,
Archéologie et Littérature des Mondes Anciens – UMR 8164. CNRS, Université de Lille [SHS], MCC)
«Big is beautiful?» Faut-il VRAIMENT étudier les «mégadépôts» monétaires?
17.00-19.00
Discussion & Conclusion
20.30 Dîner Farewell : Il Posto delle Fragole, close to the "rose garden" on the hillside, via Guglielmo De Pastrovich, 4 – Trieste