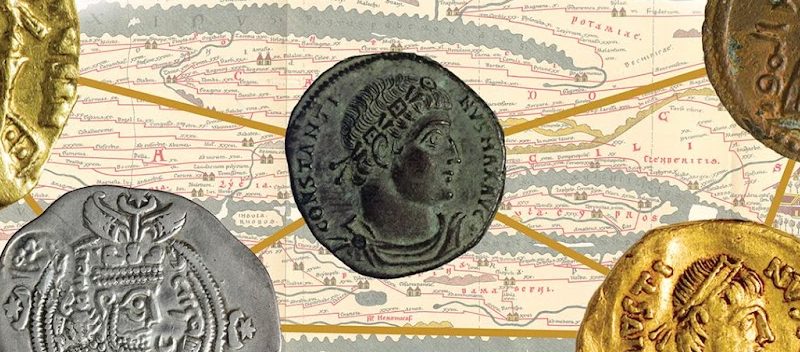 On March 18, 2022, numismatics scholars and enthusiasts from many nations will gather in Princeton for "Networks in Transition: Monetary Exchange from Antiquity to the Middle Ages," a conference organized by the FLAME Project at Princeton University. FLAME – which stands for Framing the Late Antique and early Medieval Economy – looks to reconstruct the early medieval economy (CE 325-725) in the Mediterranean region and Western Asia.
The conference will present a rare opportunity for scholars – both those who have been involved with FLAME previously, and those who are not currently involved – to meet one another and share the results of their research on this wide-ranging topic.
Speakers from the Czech Republic, Germany, Greece, Italy, North Macedonia, Spain, Turkey, Ukraine, the United Kingdom and the U.S. are expected to attend. They will join FLAME project leaders to share their insights and expertise, and help shape a new consensus about the Late Antique to Medieval transition.
Keynote speakers include: Rory Naismith, University of Cambridge; Khodadad Rezakhani, Leiden University; Florin Curta, University of Florida; and Stefan Heidemann, Universität Hamburg.
"This is exactly the sort of event to welcome the scholarly community back into real-world dialogue. It brings together a superb selection of scholars, new and established," said Naismith. "I am looking forward very much to a few days of productive discussion that will stimulate work on the significance of coined money in late antiquity."
Organized by the Princeton University Library's Numismatic Collection, FLAME involves an international group of scholars investigating the process of change in the economy of the Mediterranean and surrounding regions during the transitional period from antiquity to the early Middle Ages in the Byzantine, Islamic and European spheres, by using coinage as a proxy. FLAME's website includes two mapping applications for evidence of minting and coin circulation, including downloadable charts and an extensive bibliography of coin more than 65,000 finds illustrating the circulation of over 750,000 coins. The data underlying the project is continuously being vetted and cleaned.
"This event is going to bring together a diverse group. Scholars of the Latin West, for example, typically do not regularly share insights with scholars of the Islamic East," said Alan Stahl, Chair of FLAME and Curator of Numismatics at Princeton University Library. "This will be a great opportunity for such dialogue. FLAME is trying, moreover, to push its reach further into Central and East Asia, and this will be a good opportunity for scholars with the relevant knowledge (some of whom we have invited as speakers) to provide input on the project in a concrete way."
Conference organizers hope to provide scholars of the field with wider perspectives by exposing them to scholars and scholarship from other countries and regions. Scholars of digital humanities will also have the opportunity to get an in-depth look at workings of FLAME's custom-designed applications. « In particular, scholars of digital humanities will have the opportunity to participate in discussions about data reliability, comprehensiveness, and problems of working with incomplete data in the humanities, » said Mark Pyzyk, the database coordinator for FLAME.
The aim of the conference will be to highlight some of the historical insights generated by the FLAME web tools that have been published online over the last few years. Conference participants will discuss how numismatic data on this scale informs our views on the collapse of the western Roman empire, the consolidation of the Byzantine empire in the east, and the rise of Islam.
Data and web tools from the project are freely available and shared on an open-data basis. Talks will be live-streamed and the recordings will form part of the record on this topic.
Regisration is required to attend "Networks in Transition: Monetary Exchange from Antiquity to the Middle Ages." There is no cost to attend (in-person or virtually). Register here.
For more information about the FLAME Project, please visit: flame.princeton.edu